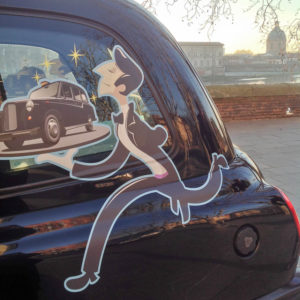 Cleaning your car without moving ? That's Charlie's project ! This British man living in Toulouse has invented the original concept of cleaning your car wherever it is. The good thing is Charlie comes always with his London cab.
A Brit who is living in Toulouse and created an original concept, that's what Charlie done. The ex-butler came to Toulouse five years ago. For three years he developed his company : « Charlie's Car Cleaning ». He comes with his cab to clean your car with steam method. « I'm totally independent, I don't need water or electricity » because he has a generator if there isn't a power supply. The steam machine is rare and sought-after in Toulouse but « sometimes I need to send the machine and the generator back to Paris. It's difficult maintaining and making sure everything is working at the same time. It's more difficult than I thought ».
At the beginning, when people saw the cab, reactions were « incredible, people were just stopping in street, smiling and laughing », remembers Charlie. Using a London cab in Toulouse is unexpected : « People see the taxi and watch me working and they call. So it's very good. It's worked very well », explains the car cleaner. 
Now he works with another cab because the previous was older and there were lots of problems. « The second one I bought is more recent and better condition than the first, I have less problems with it now ». Charlie met difficulties to import a cab in France for the price and the legislation. He explains : « the first one took me three months to import from Rochester and the second one took me probably a month or two, it was easier ».
A not so ordinary job
« There's not many people doing what I do », affirms Charlie. Cleaning people's cars directly at their house or at their work, it's not so common. With this job, the ex-butler discovered the « Pink City » : « it's been interesting travelling around different parts of Toulouse, meeting lots of different people, cleaning such different cars. It's a pretty good experience ». His plans for the future : « I think in the near future I will expand and get some employees ».