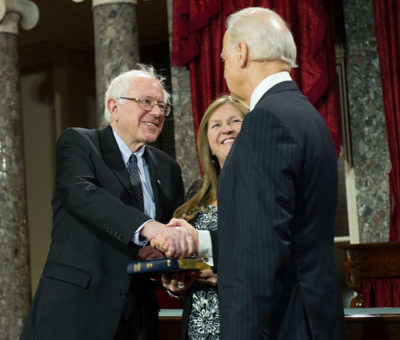 The Democratic presidential race emerged from Super Tuesday with two clear front-runners: Joe Biden and Bernie Saunders. These two candidates represent competing wings of the party.
This is a new decisive step in the race for the American presidential election of 2020. So far, Joe Biden has won Texas, Virginia, North Carolina, and at least six other states, thanks in large part to the support of African Americans and moderates, while Senator Bernie Sanders has harnessed the support of Liberals and young voters to win the campaign's biggest prize, California, and several other primaries. From Maine to California, the results clarified a race that is increasingly a two-person contest between Biden and Sanders. On the sidelines of Super Tuesday, the counts revealed that Joe Biden is the great favorite in the Democratic primaries after spectacular victories.« Joe Biden came back from the dead. » affirms John Thor, spokesman of Democrats Abroad in Toulouse. Indeed, he resurrected a campaign that was on the verge of collapse after losing the first three candidate states.
In the aftermath of « Super Tuesday », Joe Biden received a new boost for his campaign as the former New York City mayor Michael Bloomberg withdrew his candidacy while supporting Biden. A few days ago, he also received the support of ex-candidates Pete Buttigieg, Beto O'Rourke and Amy Klobuchar. To date, Joe Biden has 370 delegates, while Bernie Sanders has 298.
The race is not yet won…
Even though the election looks like it's turning in Joe Biden's favour, the race is far from over. Bernie Sanders carried the biggest prize and trove of delegates, California, which The Associated Press called just after polls closed. The Senator continues to have strong support among several important constituencies: young voters, Liberal voters and Latino voters in particular. But the eventual election of Bernie Sanders could represent a risk according to some Democrats.« Many Democrats think that Bernie Sanders is too far to the left, not in terms of his ideas, but too far to the left to get elected because Republicans like Trump will attack him as a Socialist, and this would not help the Democrats to get elected » explains Scott Stroud cheer of Democrats Abroad in Toulouse. The disparate political coalitions the two septuagenarian politicians have assembled suggest a long and protracted fight ahead.