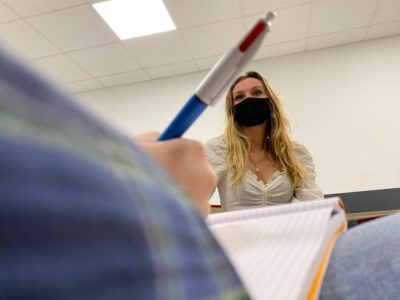 For the love of the profession, to perfect one's pen, and because training is always useful. The US team reveals interviews of the second year class. Intimacy and revelation to the program. To your glasses, good reading.
Nina Hossein – « We have one of the best lagoons of the world » : the aquatic life from the eyes of Abal Kassim
Abal Kassim came from Mayotte, an Island where we was born twenty one years ago. He grew up in a paradisiac place where aquatic life has an empty space. This is an Island with a lot of threes and corals are kind of the living being as he explains. The sea is omnipresent on the daily life of the population. « I often go to swim on the sea. In Mayotte this like a routine ».
Not only to refresh himself, Abal Kassim used to practice some water activities. « There are a lot of water activities in Mayotte. I often dive, snorkel, but also kayak. We have one type which is transparent. This is m;:because you could see the reef ». Imagine, you are under the sun, in a blue lagoon, with many fish and you're there, just looking at the coral. Abal Kassim seems to be in his favorite beach whereas I am interviewing him at Toulouse. This Wednesday, it is 12°C in the morning. But the twenty-one years old guy is making me travel. « It is a slap to the eyes. The colors are incredible. Do you know Nemo, the cartoon ? This is exactly the same ». A description that make us want to buy a plane ticket. Direction : Indian Ocean.
Ruben Dias – Amin, make Celtic great again
A Celtic guy first and foremost. A green pixie whose model player remains Paul Pierce. The truth. A model of fighting spirit, courage and passion. Amin, is a young French basketball fan. Amazed in front of his TV in 2008 by the green men. Green blood continues to flow in his veins today. Which does not prevent him being lucid when it comes to designating the GOAT. « Yes I think it's Michael Jordan, followed by Lebron, and to complete the top Three, I would put Hakeem. It is not necessarily the one we think of first, yet we should. » You have to respect the old rockets. So no Larry, no Bill Russel either in Amin's top 3 all time. Is he really a Celtic fan ? The people are wondering. Don't worry, the young man is a pixie. An elf mother proud of her cubs. In the Orlando Bubble, the children of Boston, we managed to go to the final of conference. He explains the great feat : « that's very good what they did. How they evolved. Necessarily there are regrets but we fell from the «strongest». But Amin is also that. A Celtic fan may be, but not a blind one. A green that recognizes that the most dominant team in history, did not play at TD Garden. It's beautiful.
Arthur Dias – Gala & Modern pop music
Gala, a journalism student at ISJT, is passionate about modern pop music. Her childhood in the United States influenced this passion. She grew up with the music of Avril Lavigne and P!nk. Two artists known worldwide for their talent and their music. Artist P!nk is Gala's favorite singer. She loves listening to her music and her favorite song is «Try». It's a song with strong lyrics that Gala can relate to.
If Gala likes to listen to modern pop music. She also play it, with her group «Genssen». A collective made up of seven people including Gala who is the main singer. Gala also plays saxophone, violin, piano and guitar. Instruments she learned to play for six years in a music school. Gala is a fan of modern pop music but not only… Indeed, she also likes rock and especially the group Muse. Listener, performer and musician, Gala is a chameleon in the world of music.
Bastien Guy – Tristan, full blast
Tristan has been passionate about motorsports and Formula 1 since his early childhood. His grandfather was immersed in the world of motorsports, so it was only natural that Tristan got the Formula 1 bug. Tristan then returned to the supremacy of the Mercedes team in this discipline.
Mercedes came to Formula One in 2010. With the new rules and new hybrid engine of 2014, they bought an amazing advantage to the team. They had already been using the inovating engin in other motorsports, such as the 24th of Le Mans. So now they dominated the competition but new rules come in 2022 and Red Bull could prove to be very good outsiders. Tristan explained the crisis at Ferrari. « The ecury has a bad car this year, but it's the result of years of mistakes. From the drivers, like Seb in Singapore in 2017 or the German Grand Prix in 2018. But the team isn't as good as with Schumacher. The car was very complex in the last years and they try to make it easier to drive, but they create a monster, very slowly on track. »
Tristan also recounted where he was during Pierre Gasly's monumental feat. The young driver won the Grand Prix of Monza. It had been 24 years since a Frenchman had won a Formula 1 race. « At the first time I don't want to watch this race, I was in the train and my father called me, Galsy was first with 20 or 30 laps to do, so I started to watch, and I thought Carlos Sainz, the McLaren driver who was behind him, would close the gap but Pierre did an amazing job, and I saw my first French victory, it was an unbelievable moment. »
Lucie Lescastreyres – Guillaume, in all confidence
Guillaume Chambon, is 24 years old and comes from Clermont-Ferrand. Today he would like to talk to us about a subject that is particularly close to his heart… After talking with him, Guillaume's opinion is very constructive and well argued. Society thinks in a hetero-normative way, where the man has the power and the woman is «weak» according to him. Part of society tries to change things through riots, marches, shows… but the voice of those in the streets is not as strong as the one that controls the countries…
The media tries to give visibility but it is not always well done. For example, a story on TF1 recently bullied a transgender girl and used her dead name – or a few days ago they translated LGBTQ rights into «minority rights». Certainly LGBTQ are a minority, but minorities are not necessarily LGBTQ. As he shows me he is very knowledgeable on the subject which he feels is very important in our society.
Why does he think we should talk about it? To change things, and by things he means mentalities. For example, two guys in a relationship will quite often be asked «who's the man and who's the woman?» Two men are two men. The question behind this is «who is the dominant and who is the submissive» and by dominant we mean the man and the submissive, the woman. Everyone wants to be free, and to do what they want with their bodies. This is why the LGBTQ community continues to fight. That's why feminists continue to fight. The struggle is similar even if it is different. In his opinion, we are all feminists within a certain limit where we all want to be on the same scale. Woman = man. According to him, there is a weakening of the image of the «strong»man.
Thus, to be equal, women and men must be on the same scale in his opinion, which will lead to heterosexuals nand homosexuals being on the same scale too.
Chris Daza – Discovery of a cinematographic movement "the New Wave"
Sarah Gilot, a second year journalism student, graduated with a Baccalauréat with film option. She describes a movement she particularly liked, «the New Wave».
Today, cinema is more than 120 years old and many movements make up its history. We can find burlesque cinema, German expressionism, Italian neo realism, Japanese cinema… to name but a few. Buthere we are dealing with another movement, «The New wave» with Sarah Gilot. This cinematographic movement was born in the 50's. The expression, «New Wave», designates a renewal, a new version of cinema. Sarah Gilot explains: «This is what the creators of this movement wanted. To create a new cinema, to create a new way of filming.»
The young student took a film option in her high school. She had the opportunity to analyze this movement in depth. Since then she has been fascinated by it. «It's really a cinematic movement that is, in my opinion, different from the others. It shows a new aspect. The shots, the shots, the framing, the editing…». This movement has brought change, Sarah has noticed: «One of the major characteristics is the arrival of a main hero. Also they used a new camera. » There are several directors and actors who have been part of the New Wave movement. We find Jean-Luc Godard and François Truffaut as directors. As an actor, there is Jean Paul Belmondo who is Sarah's favorite. « It pierces the screen. It transmits an emotion.»
Guillaume Chambon – Lucie, to the top
«Do you think food and sport are linked ?» That's a question we've asked Lucie Lescastreyre today. The young woman's heart belongs between her yoga mat and her recipes book, which explain why she attaches this much importance to cooking.
«I love to cook! I spend almost two hours a day, cooking». But not simple dishes : nutritionally balanced meals. From breakfast to dinner, including lunch and even snacks, Lucie gives importance on what's on her plate, and tries to make everything by herself. By avoiding processed products and cooked meals, she controls her needs easily. «I am also very interested in nutrition and well-being through food» – she said. A lifestyle that is completed by the practice of sport. «Sport and food are linked» and she noticed it when she began with having a healthier lifestyle. «Since I adapted my diet I have noticed better results and performance».
Curious by nature, she is even more when it comes to sports. Cycling, running do not scare her, but Lucie is more into fitness and weight training. «At least 4 times a week», she turns her house into a gym to practice, and exercise the best way possible with the equipment she possesses. Sharing her life with a professional rugbyman, Lucie puts her limits on the practice of sports. «I'd rather do sports for pleasure and to let off steam […] than finding it too difficult at a top level».
Anne-Lyse Raymond – Mathieu, « in organized gang»
Shifter Pro. Mathieu is an unconditional fan of rap. He has always been drawn to US rap. It is thanks to Kendric Lamar that he fell under the spell of this style of music thanks to his lyrics and his albums so unique that he has loved them for all time. He is as much a fan of rap before as he is now. Because he thinks that everyone has their qualities and their faults. He realizes that there has always been vulgarity, but it is no worse now than before. As for French rap, he is less of a fan than the US but he enjoys listening to it from time to time. Currently he's a little disappointed with the latest music that has been released, like the youtuber's album, Squeezie. According to him, it's not really rap, but he can understand that other people like it.
Marie-Amélie Masson – The music see by Eva
Electronic music is a type of music created since the 50s. In Eva Kruyver's headphones you can hear the sound of synthetic bass. Since she was 13 years old, she has been scouring youtube playlists and 5 years later, it's the festivals in Europe that she sees. One of her favorite dj's: Timmy Trumpet, an Australian who mixes big room, trance and hardstyle. She saw him more than 3 times in front of the EMF, Mysteryland and Tomorrowland Unite stages.
Despite his love for the DJ, what animates her the most is the atmosphere of the festival. « This assembly of people who share a passion for music is magical,» she says. She meets passionate people from all over the world, talks to them for hours, dances with strangers to music they know all the words by heart. « A real sect but a sect of positive vibes» she laughs. A festival is a recipe that brings together a fairy-tale setting, to fill a weekend with happiness.
Unfortunately, every good thing has a dark side. This glittery world hides dangerous backstage. The majority of dj's, organizers, stage editors certainly don't keep such a rhythm of life thanks to coffee. The consumption of alcohol, cocaine and poppers are an integral part of the night world. Recently, Avicii, one of the most famous DJs, committed suicide. With good reason: a huge pressure due to his fame and an addiction to alcohol. Eva still remembers the moment: « It's unfortunate. But even in sad moments like this, the techno people became even more supportive and closer together. »
Amin Abdullahi – Ruben and the love of the premier league
His love for football is so huge than we need more than 5 minute to talk about it. He's father gave him feelings for Liverpool. But he rather a beautiful a team practicing a football with passion than a big team. Particulary Leiscester, because it's a small thumb. When they're playing against the top team they're like David against Goliath. But they have some incredible players and an impressive fighting spirit.
When he played soccer he was a midfielder. And a took exemple from Gerrard. Particulary for his loyalty. But he's favorite one is Bernardo Silva. Not even because he's portugues so beacause he's a player who is technically above of everyone else. He makes him dream.
Sarah Gilot – Chris X the Confinement
In the center of our interview today, Chris Daza who wants to talk about confinement and the effect on his life. He says that the confinement was «a good thing» for him, for the world and vital. But it also has negative consequences. The young man starts an internship at the same time as the begenin of the confinement. So he has to do all the work at his home, and learn all the job alone. This experience marked Chris. Today, the idea of a new confinement is difficult for him. He knows that 70% of the French are ready for a new confinement. But for him it would mean depriving himself of his friends and sport again. Not only that. For Chris, a new confinement would be harder for a stable return to normal life. « For example, I forget my mask when I go shopping.»
Cheick Ahmad- Impact of art on society with Aurélie
Art is a set of representations of the spirit of each person. It's a creation, whether it's visible, audible, whatever, which aims to convey a message, to testify to something or to tell a story. We talk about the role of art in modren society with Aurelie Rodrigo.
Art has a very important role in our society, it's something that encourages personal and individual reflection. « In our western society we don't need to pass on a story because it is more or less similar. What we need is to express ourselves, to make ourselves heard or understood » according to Aurelie. Art allows us to convey important messages in a roundabout way. « Humor, for example, I think it's art, and it can be a strong whistle-blower. Or music, I take the example of the last songs of Grand Corps Malade where he denounces machismo, it's beautiful and at the same time it serves a social cause » Explains the young journalist.
In our modern society art still has an important role « is something that encourages personal and individual reflection ». It's not only artists that can make art in our modern world. « all depends on the definition of the word, after all how do you characterize an artist? I think that everyone has an artist sleeping inside them, everyone is capable of expressing themselves artistically, no matter what it is« that's the way Aurelie sees modern art. It's everywhere. For exemple she talks about a graffiti artist of Toulouse who « always draws big funny chickens, full of different colors that he piles up. This work represents the social mix, the fact that everyone lives its lives each one on its side but so close too ». That's talk about equality in a certain way, a big modern topic.
Abalkassim Abaine – Nina Hossein, The Reunion traditions
Let's talk about Reunion with Nina Hossein, a second year student of ISJT. A beautiful tropical island. It is full of life and different cultures. French departments since 1946, the island has welcomed a population from diverse backgrounds. Chinese, Indians, French and Muslims all brought their cultures to the island. In the example, traditional foods mixed together to create several dishes. «It's hard for me to say which dishes come from where, because at the meeting there are a lot of different cultures,» explains Nina. His favorite dish, the «Rougail Saucisse». A typical dish from his island. Beyond the food, it is also a question of traditional dance.
The «Maloya», and the «Sega», are both the traditional sports and dances of Bourbon Island. «If I can, I would practice Maloya because I like dance» says the apprentice journalist. Her smile, telling us about the traditions of the island that saw her birth, makes us want to discover more.
Aurélie Rodrigo – Cheick, between novel and fantasy
When fantasy novels come to serve reality, to embellish it, to contain it. For Cheikh, it is a mine of solutions, an escape route. Yesterday, he told us his story in an interview. Between personal experience and social solutions, he tells us how fantasy novels have changed his life. Imagination, is one of Sheikh's favorite aspects of the fantasy genre, but not the only one. The young man emphasizes his power to convince, with a touch of humor. The aspect of fantasy novels I love the most is the imagination and the power to convince that author has, I mean you can read that dragon, troll or giant exist and you be like, «yes that makes sense.» Two aspects that have helped Cheikh a lot in his life journey.« Fantasy novels means a lot to me they are an escape. When I was young I was troublesome, full of imagination, and fantasy novels were a way to contain my imagination become more focussed. When my grandmother passed away my sister was too sad and I started to look for a solution to make her happy again. I started to think about all the fantasy novels I had read – the solution was a magic wand. »
Cheikh believes that what worked for his family extends to the rest of society. In Harry Potter, for example, we see how fantasy can be a very real reflection of our society. « Hermione Granger fights for the rights of the House Elves who are compelled to only serve the Wizards, as in our parallel fight for equality and civil rights. Elves are also traded – like they are things with no emotion not sentient beings – and this reminds me of slavery. » Ironically, morality can be more apparent in the literature of fantasy that it is in the 'real' world which we inhabit.
Eva Kruyver – Toulouse, capital of deaf people with Marie-Amélie
Since the 80's, Toulouse has been the place where all deaf people meet. This did not escape the attention of Marie Amélie Masson's mother. She was deaf and visually impaired from birth due to an illness. Marie-Amélie came to Toulouse in 2016 and discovered another world, which had been kept apart from society for decades and which was constantly fighting for acceptance. Toulouse is the capital of the deaf. The creation of private sign language classes in 1980 acted as a magnet for all deaf parents. They lived through the prohibition of the practice of sign language in their childhoods. They did not want this for their deaf children. Marie-Amélie relates that her mother had been forced to verbalize her words. Her teachers pushed her to learn lip-reading to understand the classes. She was reprimanded when she was seen signing with her deaf classmates. «They had to hide even though it was their mother tongue,» Marie-Amélie explains. Today, affected by this education, her mother does not teach her children sign language. She was relieved that her three children could hear. Moving to Toulouse, allowed them to participate in the deaf community of their mother. The Pink City is consequently the most accessible for the deaf. It is also the only city that offers a complete schooling in sign language, from kindergarten to high school. «We hope that this will develop. Deaf people are not only born in Toulouse but in all France» laughs Marie-Amélie.