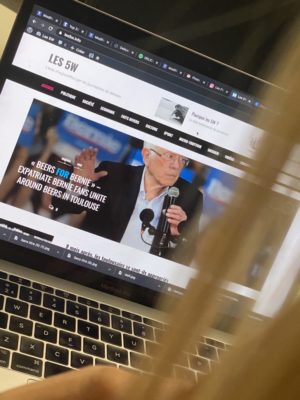 New technology has supported journalists in the exercise of their profession. Websites, Facebook, Twitter… we observe what's interseting in today's websites..their advantages and their limits… 
1995. The year of change for the information world. Le Monde diplomatique opened its information website. The start of a long list of online media. Since then, the majority of PQRs, PQNs, magazines, have a website. The New York Times, Le Journal du Dimanche or Le Courrier Internationale. Everyone can no longer do without this tool. An almost essential key tool for the media for a reason: the internet is usable and modifiable at any time. At any time, the journalist can enter information on the internet. Whether it's 5 a.m. or 12 p.m. Thanks to the website, the journalist is no longer under the tutelage of the paper publication hour. He becomes the head of his internet. Master of his information, the journalist can modify it at any time. Any correction is possible.
Greater freedom of content
Through a website, the journalist has greater freedom of content. Computer graphics, surveys, tweeting… The journalist controls all the elements he wants to put in his paper. No limits. He does not have to do according to the size he has to take on a publication. He has a page all to himself. This freedom is often used by journalists to support their information. Are we talking about a political debate? A supporting video is inserted. A demonstration in a country? Several tweets on the movement can illustrate. The website helps the journalist. And in the end, helps the reader to better understand the information provided.
The limits 
But having a website can have certain limitations. Limits that journalists are increasingly blamed for. « Fake news », « defamation », « unverified work ». Several subjects driven by a desire on the part of the media: to be the first to release information. The race between certain media may be that their information is not always checked and cross-checked. This is the ABC of the profession of any journalist. Pay attention to the information you are going to publish. Because once the information is out, it no longer belongs to us.
One can think recently of the case around Guy Joao. This man had been arrested in a Scottish airport for his « striking » resemblance to the wanted man Xavier Dupont de Ligonnés. Without waiting for confirmation from the police, the media seized the information on the internet. Not specifying « that a potential suspect had been arrested » but that the real « Xavier Dupont de Ligonés » had been.
This limit watches over journalists like a sword of Damocles. It is up to them not to touch it and keep the temptation away from the first to get information.