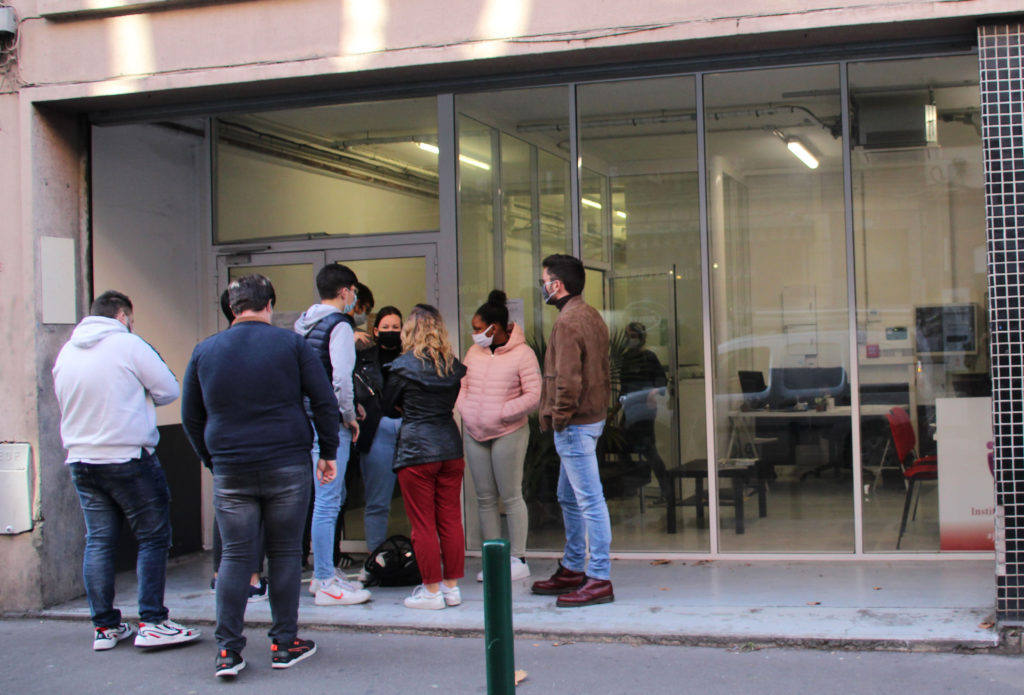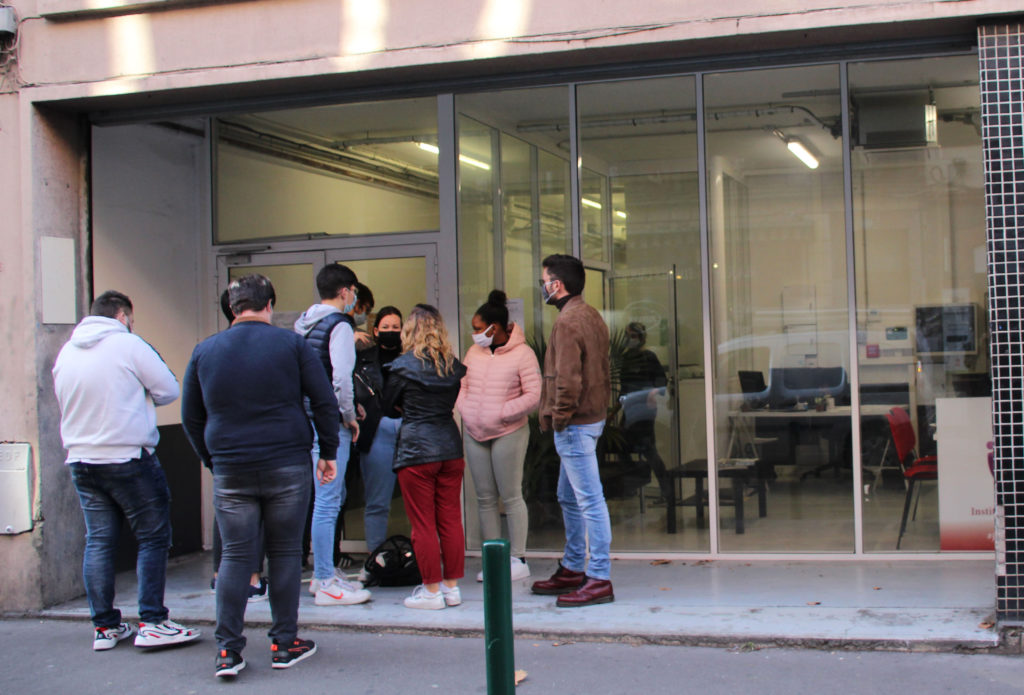 Right in the centre of Toulouse, the Institut Supérieure de Journalisme receives and teaches the information profession to numerous students. In their quest for knowledge, some of them touch their dream: to be the future journalist of tomorrow. Among them: the second year of training. Between courses and internships, a new one is being built. Our team followed Mélanie Rolland, a student in the class, for a day. Reporting at the heart of their training.
8 a.m. on Monday 28 September. Under a rainy sky and a new one in the rain of Covid-19, she arrives with a backpack for this new week of classes. School of journalism or university? The choice quickly fell on Mélanie Rolland. This tall brunette, fan of athletics, has always known it. It is the feather that will guide her desires. And which brought her here. Installed in her classroom, 20 pupils are there like her. Carried by the same desire. A common desire. To learn the profession of journalist. An exercise that her twenty apprentices have been practising for 4 years now.
On the day's programme: intensive English lessons. Nicola Scicluna will provide them with the basics. The objective? To be able to hold a conversation and announce news in English. A part of the job that the promotion doesn't have time to think about. « Please give me a personal introduction to you. Interesting, surprising, which would make your future employers want to work with you » says Mrs Nicola. At full throttle, the 21 brains go to work on the keyboards. To be able to give of oneself and look good at the same time. Because the pen can be worked on as an article as well as a motivation.
At the back of the room, a voice is raised. A deep tone, recognizable among a thousand reasons. It's Thomas Gourdin, the school director, he has an announcement to make. As often these times, it is sponsored by Covid-19. Students may have to attend the next week of classes at home. A news that is disturbing some of Melanie's classmates. « Not serious, have we been confined enough no? » says one of them. The atmosphere becomes a little tense. Fortunately Nicola takes out an asset from his sleeve, his magic bell. Everybody smiles, the court resumes its course.
The hands point to 10 o'clock, the break should not be long. But because of the health crisis, the second year students have to wait for the other classes to start. The teacher then proposes a new exercise. The former teacher from The Independent or Time Out wants to get their students to work on their writing. To be able to evaluate them. Something she is not very fond of. « I'm grading you because I have to, it's almost the weekend, and you need a grade. » There has to be a number on the report card. « Oh, we couldn't be graded with colors, » Bastien laughs. 
A big fan of tennis, French puns and expressions, Bastien loves to provoke laughter among his classmates. « Laugh and make people laugh? I love it. » That's probably why the atmosphere is so peaceful in the second year. A large (organized) group of friends. A godsend. « Between the stress of the internship. The few outings we do because of Covid, being happy when we come to class, it's very important« , explains Melanie. The days go by, but they are not the same as at the ISJT. Every day, new information, a new friendship, and so many stories to tell.

Illustration article : Let's follow Melanie in a day as a second year
student.  © Gala Jacquin / BY-SA


Melanie arrives at school in the morning. © Gala Jacquin / BY-SA

Every morning she looks at the room information before going to
class. © Gala Jacquin / BY-SA


And doesn't forget to check on the schedule just in case !  © Gala
Jacquin / BY-SA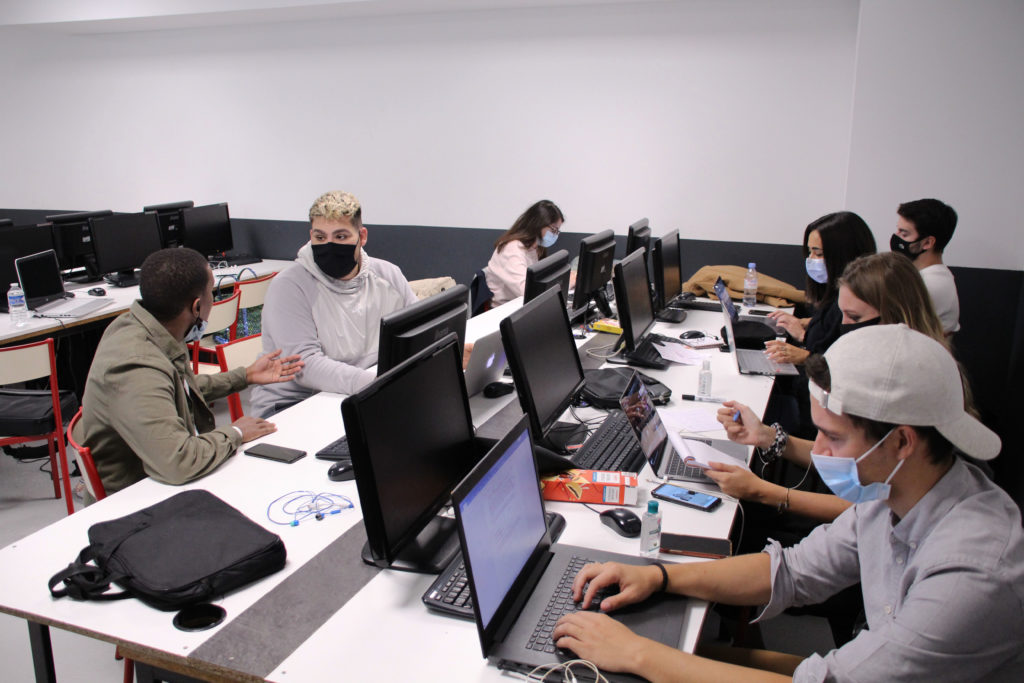 What a studious class !  © Gala Jacquin / BY-SA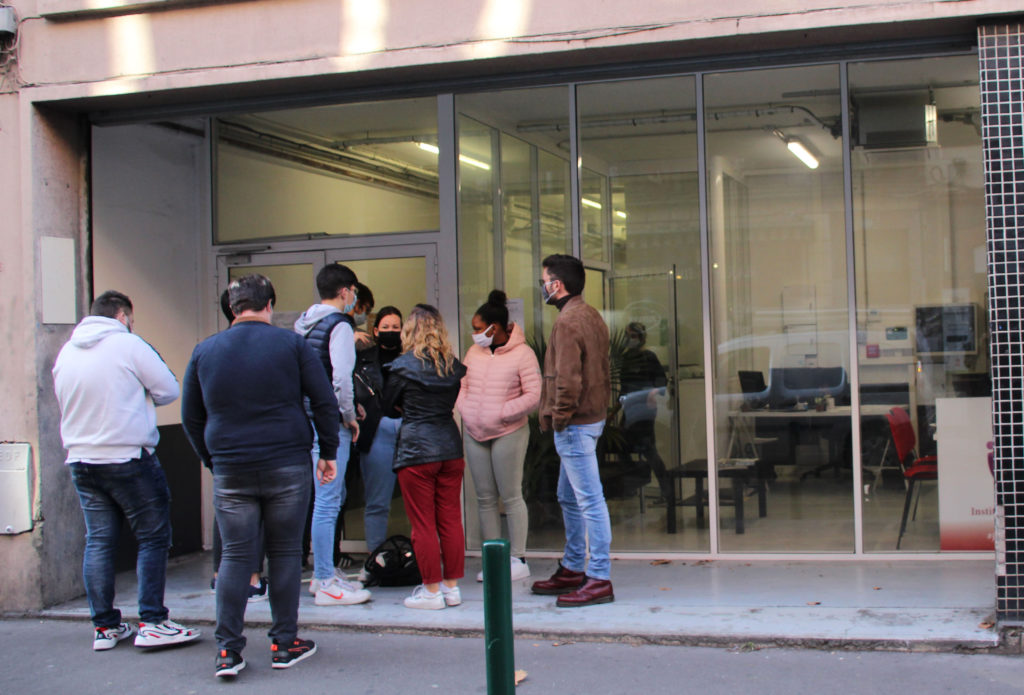 It's break time !  © Gala Jacquin / BY-SA


Several times a day, Melanie checks on the news.  © Gala Jacquin / BY-SA


Five hours of class at once ! What a long day !  © Gala Jacquin / BY-SA


1:35 p.m. End of the day, see you tomorrow Melanie !  © Gala Jacquin / BY-SA



Abal'Kassim ABAINE, Mélanie ROLAND et Gala JACQUIN.