To draw is an art. Charbel Jabbour chooses tattooing "to bring it alive". Malabar, his artist name, has an unusual experience. Today, he is able to live, from his passion, in Plaisance du Touch, next to Toulouse. We've met him.
When Charbel Jabbour was born in Caracas, twenty-six years ago, no one could imagine that he would be a tattoo artist, ten thousand miles away from his birth city. A long journey to make his dream come true. He grew up in Caracas' district, and already, even if he was only five years old, he was captivated by skulls and crossbones, and he loved drawing them.
All his life has been filled up with drawing and travelling. During his childhood, he moved a lot around the world. Seven years in Venezuela, one year in Australia, three years in Lebanon, the country of his father, and eight years in the United States. He was able to adapt to all these countries and thanks to that, today, he considers himself as an openminded person. He speaks four languages fluently. Spanish, english, arabic and french !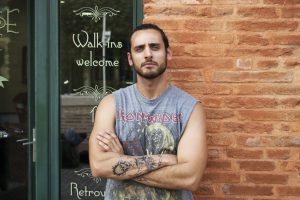 He comes to France in 2010
But, why did he land in Toulouse ? Considered as an immigrant in the US, he had to come back to Lebanon in 2008 and two years later, after his parents split, he decided to come to France with his mum. The French ambassy adviced them to settle in Toulouse, because it's a great city for students ! But Charbel didn't speak a word of French.
Again, he was able to adapt thanks to his determination. He studied graphic design, became a freelance and in the same time, he worked as a supervisor in a middle school in Tournefeuille. During this time, he still drew, he improved, and even exhibited his work !
But he was attracted and captivated by tattoos since he was a child. At the beginnig of 2016, because he wanted to create drawings for tattoo artists, he presented his work in a tattoo shop during an exhibition. On this occasion, he met with "Mauvaise Graine », a tattoo shop owner. They decided to work together. One of them wanted to learn, the other wanted to share his passion. Perfect match !
A few months later, the owner found the nickname : "Malabar" because of the candy (gum with fake tattoos). Furthermore, Malabar's character is a strong man, just like Charbel !
He tattooed skulls and crossbones, on his own skin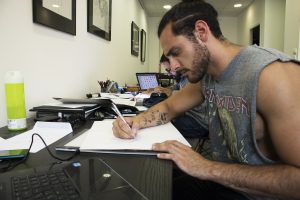 He has an artist name, he can tattoo and "Mauvaise Graine" is his mentor. His experience in drawing gave him a significant advantage. He tattooed skulls and crossbones, of course, on his own skin. When he started to work in the tattoo shop, he didn't have any tattoos. Today, he has got fifteen of them (own made!)
For more than one year, "Malabar" drew around three hundred tattoos on people. Today, he is not working in the middle school anymore, and he gives all his time to his passion. For Malabar, "tattoo means creating a bound with someone. I am really giving birth to my drawings."