Yesterday, I went to the hippodrome to meet with horses, to talk about their life. I tried to discuss with them but I didn't understand all that they meant. But a special one, was very  talkative. Here is the open letter from First du Pecos (if he could write his biography)!
Hey! My name is First du Pecos. I'm an Anglo-Arabian horse and I'm dark brown dress. I'm a fabulous racing horse. I come from stud of Pecos, in the Gers. The Pecos is a big family. We are all racing horses, and we are big champions ! But when your name is FIRST du Pecos, this adds more preassure on your schoulders. I've already won four races, I finished ten times on the podium, and I've already earned more than ten thousands euros !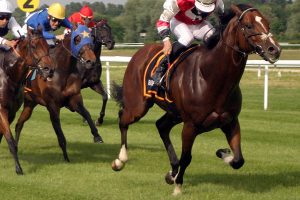 But this money is not for me , it's for my owner, who has bet on me since I was young. From the beginning I wanted to be free, to go up the Pyrennees, or to gallop in the heat of the arabics countries.
Instead of that, I was conditioned from my youngest age, to be the best. My mother, "Family", was conditioned too, same for my father, "Nombre Premier". From generations to generations, we are only here to take part in this big money machine. All, we do is train, daily, and it's has always been like that.
But it could be worst. A lot of people take good care of me. I get a shower after each race. I have nice and large field rest, and many friends in the stable. I can rest when I'm sick, my jokeys are sympatic and my owner is proud of me. But, I'm getting old now. I will not be the most famous horse any longer. I'm in the pack of average horse racers.
Today, I have a race in Toulouse. I'm not far from the stud of Pecos. I'm the local racer. I'm next to the starting blok, my oponents are here. I'm very excited, although, I'm a little scared too. I know that in the steeplechase race, I can fall down and brock my leg. I've already seen this injury, with a horse in panic running on three legs. We kill horses when they have serious injuries, because it's too costly to deal with.
Now, I'm in the starting block, it's a complete silence. And then, the race starts. I'm thoughtless, I'm running fast, I can't help it. I'm feeling good, and at the begining of the last straight line, I'm first. I'm going to win, but "L'Arizona" overtakes me ! I was exhausted and I finish third. One more podium, for me. It's not very good but it's not that bad either !
I made the show, the public is happy, but it makes me wonder : Is my owner a bleeder who makes money with me, or is he a man willing to take good care of me? Are we still alive because from generations to generations we've been good racers and thanks to my decendants, people will make a lot of money? Our horse destiny seems to always be at risk in each race.
I don't have the power to change this world. Tomorrow, I will go back home. I will rest during three days, then go back on training. It's gonna be like that, until my retirement.
First Du Pecos
Propos interprétés par Baptiste BARBAT.