Have you ever heard about Paranoïd ? That word may remind you of Radiohead or even Black Sabbath songs, but here we're talking about a surprising band in Toulouse, France.
Surprising, because despite the fact that they've been playing together for two years only, the four musicians of Paranoïd show so much maturity and look like they were made for it since they were kids. Is that Pop music ? Rock ? Folk ? It's hard to classify their spirit because each song of their first EP, Loud in your soul, sounds different. In a short period of 15 minutes, listening to the whole disk, we may think about Oasis, Neil Young or even Pink Floyd ! Indeed, the four musicians have varied influences, from the 60's, to today's music, from jazz to brit-pop… But we'll get deeper into it later with Pierre-Adrien, known as « P-A ».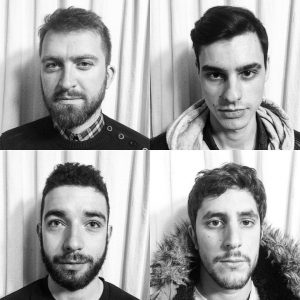 Defined by his mates as the « psychic catalyst » of the band, P-A (singer, guitars) is composer and leader of Paranoïd. Then comes Timothée Sussin (guitars), known as Tim, the quartet's « colorist ». The rhythm section is composed of Martin Jaussan (bass guitar, synthetizers) and Lorenzo Luciani (drums, effects), known as Pap's, also playing in another well-known music band in Toulouse, Scarecrow.
The four musicians have released their first EP this year, and are already working on the next one, Dark/Light, which will be recorded at the end of October and released next year. To do so, a crowdfunding campaign is already online. Before its release, it's possible to see the group on stage as they are still performing live in almost every cultural place in Toulouse, the Four Monkeys, Le Tchin, Le Ravelin, L'Ôbohem, Le Connexion, La Dynamo, Le Saint des seins, Le Café des arts, Le Taquin, or even Le Rex.
Interview with P-A, composer and singer of Paranoïd :
P-A, could you tell us how you guys met and started to play together for Paranoïd ?
It's kind of a long story ! Martin and myself have known each other for a long time since our families are very close. It's an old friendship between us. I met Pap's as he's Martin's brother-in-law. At that time, I was very fond of a band named Jell-Oo, in which Pap's was playing with Martin's wife. I really liked their rhythm section, so I sent him a message with some of my recordings and he liked them. Finally, I met Tim on the Conservatoire's benches ! We found a common interest in artists like John Mayer and pop/rock music in general.
You already released your first EP, Loud in your soul, this year, and the next one is coming very quickly… Are you already thinking about releasing a full album and perhaps going on a tour ?
Everything happened very quickly, that's for sure ! We'll record our second EP in a studio at the end of October. We also started to work with professionals. We have a publicist and a concert venue, Lo Bolegason in Castres, is following us since September 1st. This venue is part of the SMAC array (contemporary music scenes) so it brings us higher to reach our goals. We are currently working on a schedule to release our EP in March or April, then we'll go on a tour during next summer to promote our music in Paris and Toulouse.
Talking about Toulouse, what's your opinion about the cultural atmosphere in the city ? Do you think it is easy for musicians to play on stage or in a studio when they start a musical project like yours ?
Toulouse is one of the biggest cities in Europe in terms of music, and a lot of people envy us. There are lots of different projects and some of them are really good. We are discovering new groups everyday ! The artistic emulation is off the charts, especially about music. We've been lucky to play in several places like bars, and there is always a nice atmosphere. In other words, I'm in love with my city ! Some people say it's better for a band to move to another city or abroad, but many musicians from Toulouse proved that this isn't always true.
Your first EP varies between several sonorities : folk, pop, rock and even electro… Listening to it made me think about Billie Joe Armstrong's voice, about Pink Floyd, about Noel Gallagher's guitar sound… Are those your influences ?
Indeed, our first EP is a mix between different sonorities. All the influences that you quoted are audible in those four songs. Personnally, I have « surf » influences, especially coming from California. But our EP has a very pronounced brit-pop spirit and I could quote quickly Radiohead, Coldplay, Kings of Leon, Phoenix or Neil Young. Though, we still want our music to sound new. This leads us to constantly wonder about the way we write or arrange a song.
[embedyt] https://www.youtube.com/watch?v=9tu0VInnifI[/embedyt]